Jang-Gun's Mom


Vital statistics
Age
Unknown
Debut Chapter
1
Occupation
Writer
In-Game Job
None
Family
Husband (Deceased)
Jang-Gun
Jang-Mi
Weapon
None
The mother of
Jang-Gun
and
Jang-Mi
, she is a writer constantly fighting against deadlines. She is a chain-smoker and drinks a lot, implied to be because she is still grieving. She doesn't like to talk about her husband and worries for Jang-Gun and his obsession with the Net.
PERSONALITY Edit
She comes off as aloof and indifferent, but she genuinely cares about her children and their well-being. After losing her husband, her greatest fear is losing either of her children. Although, once she is in work mode, she becomes so engrossed, she forgets to eat and even Jang-Gun's birthday.
SYNOPSIS Edit
OPENING ARC Edit
Arriving to Normal Town Edit
Jang-Gun's mother is first seen smoking and turning off the power to his internet as her daughter is sleeping on the keyboard. She asks if Jang-Gun was up all night gaming and tells him to wake up his sister so they can eat something.
MEETING YUREKA ARC Edit
Jang-Gun finds her in engrossed in her room working on the latest manuscript, not paying attention to the thick cigarette smoke permeating the room. Jang-Gun tells her to clear out the room sometime, but because she was wrapping up, she told him to shut up and not bother her. When Jang-Gun asks her what day it is today, she answers it's most likely her wrap-up day, the deadline. He tries again asking her if she was forgetting something. She thinks about it and realizes she is hungry and tells him to go fix something, clearly forgetting his birthday.
RELATIONSHIPS Edit
On the surface, it seems she has no interest in her son's life. She will even forget his birthday, becoming so engrossed in her work. Jang-Gun remarks to himself it's no wonder he's so messed up with how she is.
<to be filled>
Jang-Gun's Dad
Edit
Very little is known about the father. However, it's implied by the mother that she is still in mourning over his loss, implying he died somewhat recently or never got over his death even after so much time has passed.
N/A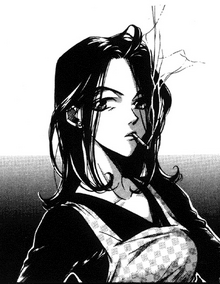 Community content is available under
CC-BY-SA
unless otherwise noted.